Submitted by

pauline.harris

on Fri, 09/24/2021 - 14:01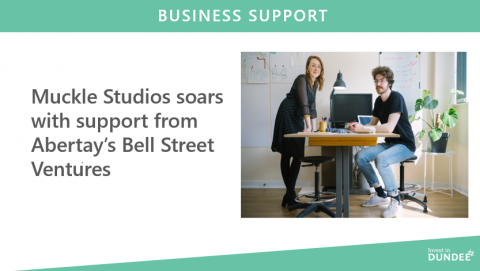 24 September 2021

A start-up which helps businesses with user experience (UX) on physical and digital products has taken off during the pandemic after mentoring from Abertay University's enterprise support unit Bell Street Ventures.
Muckle Studios was founded by Abertay University graduate Stephanie Crowe and business partner Kevin Sinclair, who she met whilst using the working space at Abertay.
Stephanie had been providing freelance UX research consultancy to businesses from Bell Street Ventures after completing the MSc Psychology degree.
Since then, Muckle Studios has thrived during the pandemic as businesses and organisations have increasingly looked to strengthen online offerings through the use of apps.
The company's client list now includes the NHS, UNESCO and a range of other businesses.
Stephanie said:
"Bell Street ventures provided me with a huge range of support when I began working for myself.
"They helped me apply for grants and funding as well as mentoring from professionals in the business world.
"Without the support of Bell Street Ventures, I don't think I would have the knowledge or the confidence to start Muckle Studios."
In addition to providing recent graduates and start-ups with a place to work, Bell Street Ventures also provides new businesses with advice on accounting, business law, branding and best business practice.
After meeting at Bell Street Ventures, Stephanie and Kevin joined forces at the start of the pandemic to help businesses ensure the customers were getting the most out of their experiences.
Stephanie added: "One of the biggest projects we were involved in during the pandemic was working with the NHS to create an app to help get patients home from hospital more quickly through the use of volunteers.
 "We've also worked with UNESCO within Dundee, so our success has seen us work in a range of different business sectors."
Bell Street Ventures helped Muckle Studios to secure funding from Santander Universities to hire an intern for the business, whose specialist research knowledge helped deliver results for a client.
Stephanie now hopes to grow the business as Scotland moves out of the pandemic.
Bell Street Ventures enterprise officer, Simon Fraser said: "I'm thrilled to see Muckle Studios go from strength to strength following Stephanie's time at Bell Street Ventures.
"We aim to support all the start-ups that come through our door to reach their full potential.
"We look forward to helping more start-ups find success in the future and would urge those with original ideas to get in touch."